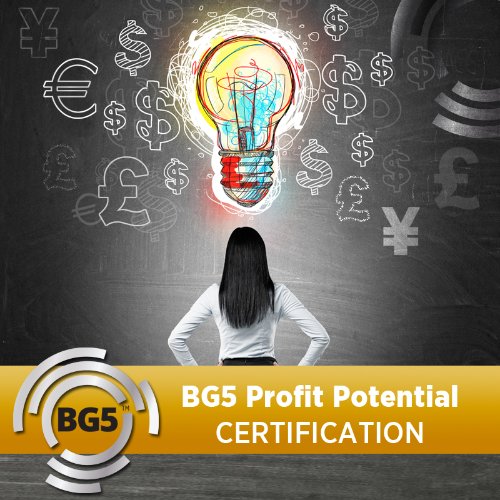 Institute:
BG5 Business Institute
BG5 Profit Potential Coaching Certification - Semester 4
Online Course
Starting Sep 23, 2020 with Karen Sherwood
Wednesdays 10am Pacific | 17:00 GMT (Reviewer Audit Price of $600 is available upon request)
Prerequisite
Registered for the BG5 Career & Business Certification – Semester 3
Completed the full "How To Profit By Being YOU Workshopserie" - 8 Workshops
To be officially Certified as a BG5 Profit Potential Coach – you must first be officially Certified as a BG5 Career & Business Consultant.
Upon completion this one semester advanced program and approval of the final course project you will become certified to offer BG5 Profit Potential Coaching to your clients.
In the Profit Potential Coaching Certification Program you will learn how to utilize all the information in the Profit Potential workshops to benefit you and your clients. In this program you will learn to tie everything together and different methods in which you can deliver this information.
In this Course you will learn…
How to utilize the information learned in the Profit Potential Workshops with clients.
How to help an individual or business get clear on the vision, mission, values and unique selling proposition (USP) to fulfill on their life work and purpose.
How to market or sell a product or service authentically while full being yourself.
How to create coaching packages to retain regular clients.
Learn how you can access all aspects of your Profit Potential
And Much More….
An overview of this final semester schedule:
Class 1  – Introduction to Profit Potential Coaching
Class 2 – Coaching By Career Design
Class 3 – Your Personal Prosperity Treasure Map
Class 4 – Where You Fulfill Your Purpose – Defining Your Market
Class 5 – How To Brand By Design
Class 6 – Guiding your Client Through Their Functions
Class 7 – Your USP: Delivering Your Value to your Niche
Class 8 – Profitable Coaching Packages
Class 9  – Marketing By Design – Your Brand Story (Hero's Journey)
Class 10 – Sharing Results and Wrap-Up Q&A